When I Was Younger, Mama G Advised Me To Dress Well Because I Will Have Kids Someday – Mercy Johnson
Renowned Nollywood actress, Mercy Johnson Okojie has recently admitted that veteran actress, Patience Ozokwor, popularly known as Mama G advised her years ago to stop dressing inappropriately because she will have kids in future and once they see her photos, they'll begin to ask questions which will be difficult for her to answer.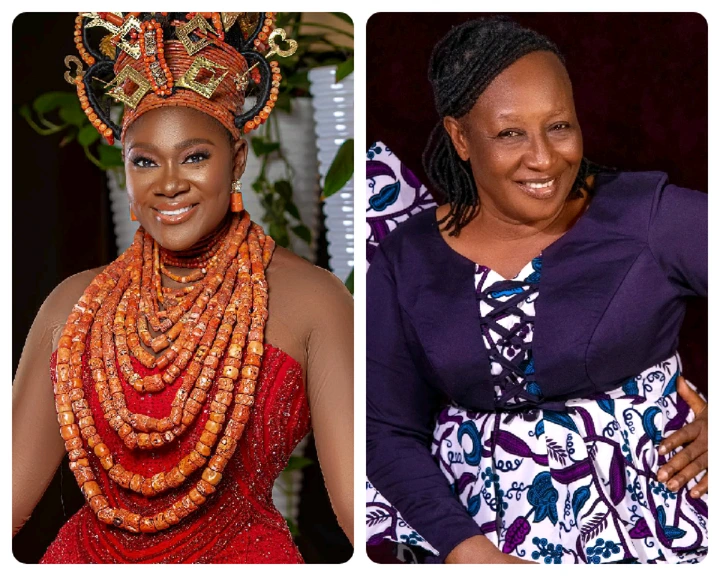 Mercy Johnson made this this known as they both reflected on the past during a chitchat on the weeks edition of her weekly cooking show, Mercy's Menu.
Mercy asked Mama G whether there is any decision one can make as a mom, wife or a woman generally and be cautious because they have kids or there is a future. In response, Mama G started by reminding Mercy Johnson of her advice many years ago. She said,
"Do you remember when you were younger before you got married, there was something I told you one day. I said the pictures you take today, your children will see you and they will know what you did in the past without anybody telling them?…"
However, Mercy Johnson acknowledged Mama G's statement saying, "…she did, she told me Mercy, dress properly, you're going to have kids and when your kids grow up, they are going ask you, why you were looking this way? And she asked me what will you say? I could never forget yes I remember, I'm just lucky but i learnt the hard way…"
Mama G proceeded to answer the question as she listed out a few things; the way we dress, our approach issues, the way we relate with people, the way we react to people's outburst.
Source: Opera